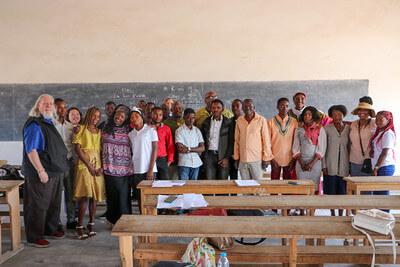 On a mission journey to the Democratic Republic of the Congo, a West Ohio clergywoman was inspired to act after an emotional experience.
The Rev. Clara Kwon, associate pastor of Stonybrook United Methodist Church, Gahanna, Ohio, was part of a West Ohio team who traveled to the Congo. They looked forward to visiting ministries supported by their conference through partnership with the North Katanga Annual Conference. Touring educational institution, they witnessed a stark contrast to American schools and universities.
"Education is important because it is the key to access resources, perspectives and a way to begin to carve a path out of poverty," Kwon said.
Kamina University, a United Methodist institution, was an active campus. The team discovered a computer-programing class with no computers and a worn library building with no books. This left an impression on Kwon.
"The school doesn't have enough resources," she said. "The kids want to be here." Many walk at least five miles to attend classes.
After much prayer, Kwon heard God directing her to give, and she donated during worship and through other opportunities. But that wasn't all.
Returning home, Kwon had a vision to start a foundation in memory of her late grandmother. Growing up in Korea, Kwon's grandmother wasn't allowed to attend school because she was a girl. In the 1980s, she moved to the U.S. and taught herself how to drive, even though she spoke little English.
"Later in life, she was always watching shows on nutrition and cooking to improve her health and wellness," Kwon said. She was a lifelong learner, a trait her granddaughter inherited.
Starting a foundation was overwhelming, so Kwon reached out to the United Methodist Foundation of West Ohio. The fund's initial focus is support of higher education in the North Katanga Conference. Once the fund grows, it can support education in sub-Saharan Africa and beyond.
"Rev. Kwon is a fantastic example of someone who, most importantly, listened to the call God placed on her heart and acted on it, even though she didn't have the full plan or the full funding in place. She is trusting God with the outcome, and that is incredibly inspiring," said Susan Black, UMFWO director.
"There was no reason to reinvent the wheel. The UMFWO and Susan Black are an incredible bank of knowledge," Kwon said. Black strategized with Kwon and created a plan to raise $10,000 by 2026 to start an endowment. Pledging $2,000 to the fund from her personal finances, Kwon received a pledge from United Women in Faith at Stonybrook UMC.
"Conversations like the one we had with Clara are somewhat rare," Black said. "Almost everyone has something they'd like to achieve philanthropically. Talking with the foundation is a great place to start. Usually, God asks for seed money. We give first to grow generosity. Opening the door of faith, it's all God."
If you or your church are interested in giving to this fund, please mail a check with "Kwon" in the memo line to the West Ohio Conference Center, Attn.: United Methodist Foundation of West Ohio, 23 Wesley Blvd., Worthington, OH 43085. To give online, click here and select "In Honor of" and type "Kwon" under "name".
Click here to learn more about the United Methodist Foundation of West Ohio.
Written by Amy Graham, Communications Specialist